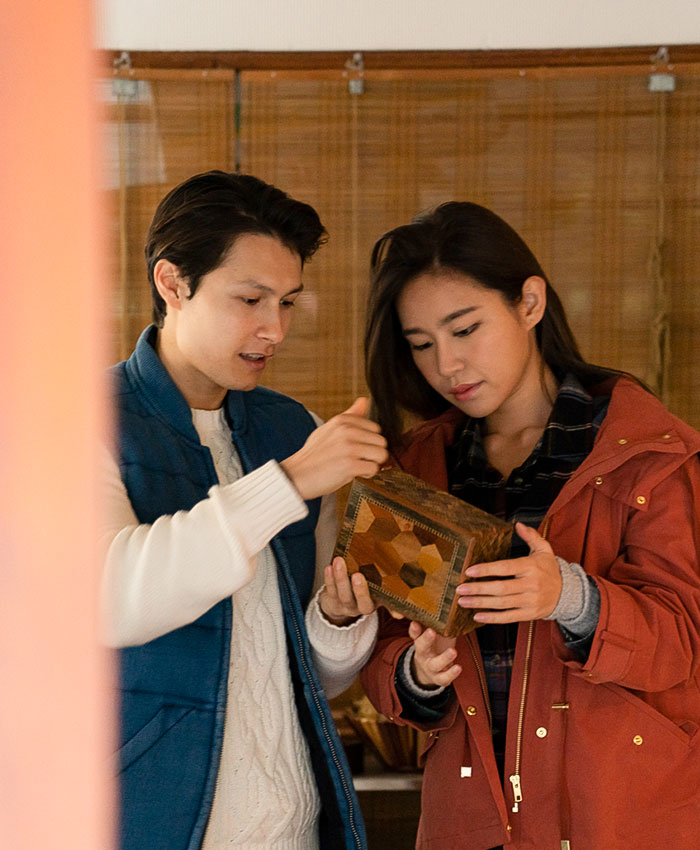 It's no exaggeration to say that Yuta Shimizu's life changed the moment he first saw yosegi-zaiku souvenirs in a Hakone gift shop. He was immediately drawn to their intricate patterns, their subtle but striking colours, and the possibilities they seemed to hold. On the train ride home, he surprised himself when he announced to his university friends that he wanted to become a yosegi-zaiku craftsman — and that's what he became.
After eight years as an apprentice to a renowned yosegi-zaiku master, Shimizu struck out on his own and opened his own shop, Luthier, in 2011. His work is notable for its blend of traditional and unconventional styles and its application to items that do not usually feature yosegi-zaiku patterns — including castanets, dustpans, and balls. Now he is helping to train a group of apprentices to carry on the tradition.
Inspired to share his craft with a wider audience, Shimizu occasionally holds yosegi-zaiku woodworking workshops at Hotel Indigo Hakone Gora. Some of his distinctive pieces can be seen in our guest rooms, and a selection of his work is available for purchase in the lobby.

GLIMMERING BRILLIANTLY...

A TOWN ETCHED IN GLASS...

SOMETHING TO CHEW ON...