GET INTIMATE WITH THE NATURAL WORLD OF HAKONE GORA
HAKONE GORA IS KNOWN THROUGHOUT JAPAN FOR ITS HOT SPRINGS, SO IT'S A POPULAR DESTINATION FOR RELAXATION. AFTER A DAY DISCOVERING OUR NEIGHBOURHOOD, REST AND RECHARGE IN OUR MODERN ONSEN. AND, AS YOU MIGHT EXPECT, OUR ONSEN ISN'T QUITE LIKE ANY OF OUR NEIGHBOURS'.
PUBLIC ONSEN: 09:00 A.M. – 10:00 P.M. *DAY-USE HOT SPRINGS PRICE: 1500 JPY *BATHING CLOTHE(YUAMI)/SWIMWEAR RENTAL FEE:500 JPY(TAX INCLUDED). FREE OF CHARGE FOR IHG® REWARDS CLUB PLATINUM ELITE AND SPIRE ELITE MEMBERS. *CHILDREN UNDER SEVEN NEED TO BE ACCOMPANIED BY AN ADULT.
RELAX YOUR BODY, FIRE UP YOUR IMAGINATION
Any onsen in Gora can talk about the relaxing and healing properties of the region's hot spring waters, which can make skin smooth, relieve stress, and even help to treat ailments. And, like us, many other onsen also have excellent saunas.
But when it comes to our public bath, we offer something genuinely different. With a 5.2×1.7m screen, one wall of our onsen becomes a mesmerising digital art show, inspired by the nature of Gora, including its water, fire, and rocks. These art shows are new each season, depicting, for example, the stones of the Haya River changing from green to red to mimic the autumn leaves, or, in the winter version, the flowing river turning to ice then to powdered snow. Soak in our jet bath, sit on our bench sofa, or sink your feet into our onsen foot bath and let this original entertainment experience fire up your imagination while you relax your body. And it's all accompanied by suitably soothing background music.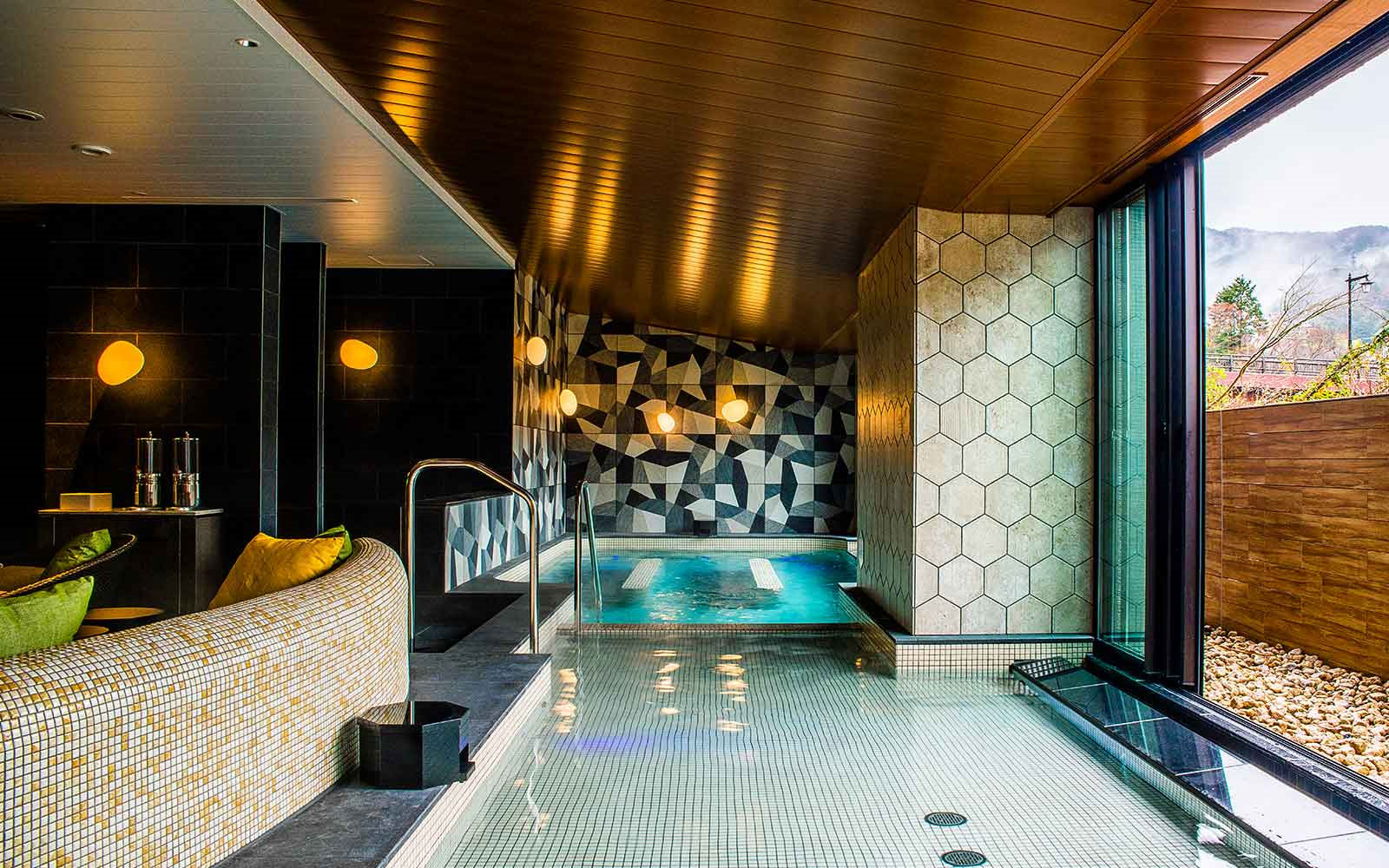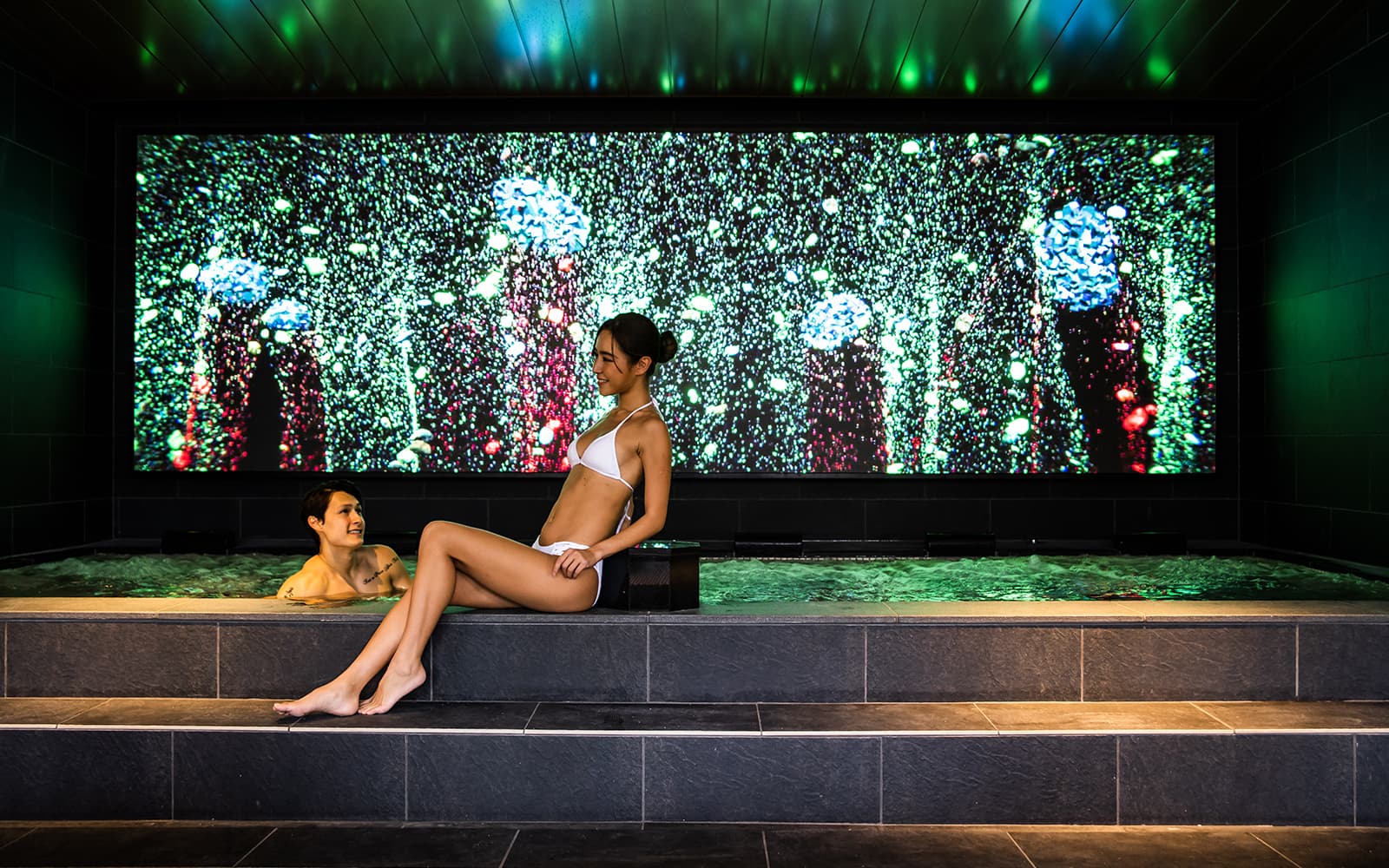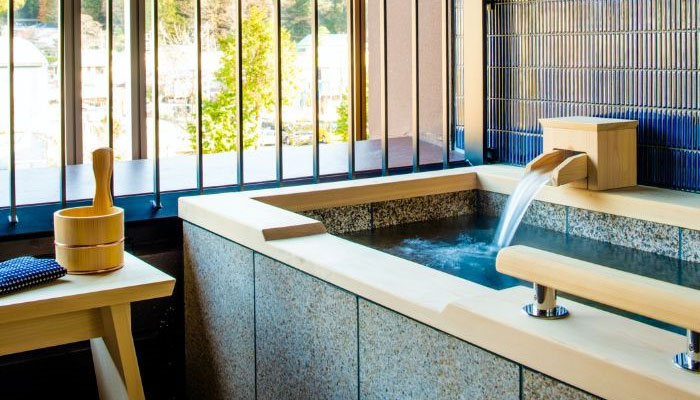 ALL ROOMS WITH PRIVATE ONSEN
The flow of nature has helped to inspire the hotel's stunning interior design. All of our 94 well-appointed guest rooms and 4 suites include a modern Japanese bath tub allowing you to immerse in the mineral-rich onsen water. Our popular river view rooms offer open air baths that let you breathe in the clean mountain air without having to leave your room.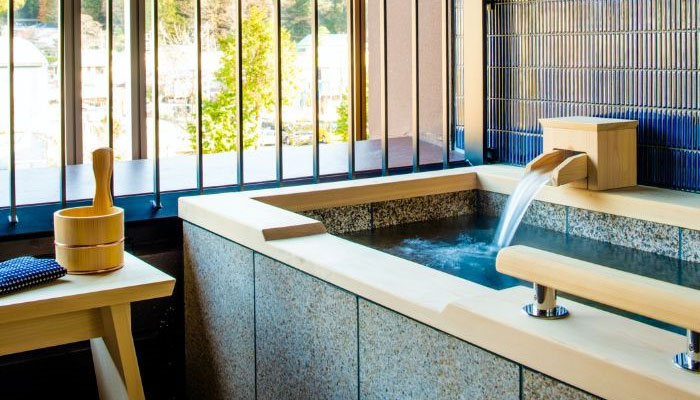 早川を一望するカウンターで、ビール片手に足湯はいかがでしょうか?
ホテル1階のリバーサイドキッチン&バーに隣接した屋外スペースです。春は桜、秋は紅葉など、四季折々の景色。早川のせせらぎとドリンクをお楽しみください。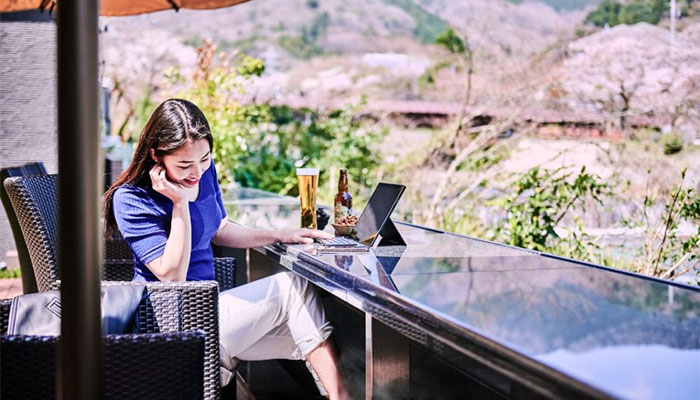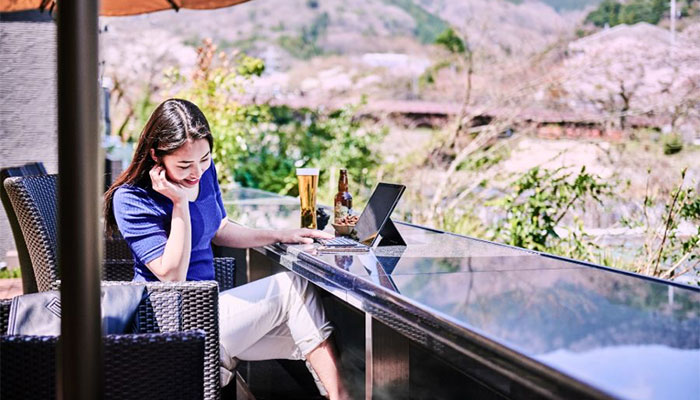 Stay in shape at our 24 hour, fully equipped fitness centre.

Operation Hours: 24 hours with hotel key card access. The Fitness Centre is FREE to use for guests staying in the hotel.