SHUTTLE BUS and OPEN HOURS
Getting the most out of Hotel Indigo Hakone Gora
* Please note that the periods, days of closure, business hours, and other items in the following information are subject to change depending on the circumstances.
* For more details, please contact us at the hotel.
Service:
Shuttle bus
Change:

* Addition of shuttle bus service in the Gora area in response to requests by customers
Service hours: 10:00 – 18:00

Contact for inquiries: 0460-83-8310
* The hotel is also accessible by regular bus (public transportation service) from Odawara Station. This bus operates from 6:05 to 21:10, and leaves Odawara Station about every 20 minutes. You can board it at the No. 4 bus stop near the East Gate of Odawara Station (via Hakone Yumoto Station) and exit at the Miyagino Bashi bus stop on the Hakone Tozan Bus line. The hotel is a walk of about 2 minutes from there.
* You must make a reservation to ride the shuttle bus from the hotel. If you plan to ride the bus, please inform the staff at the front desk in advance.
* You cannot make a reservation to ride the shuttle bus from Odawara. Please wait for the bus at the bus stop there before its scheduled time of departure.
Information on where to board the free shuttle bus leaving from Odawara Station>>
Access details>>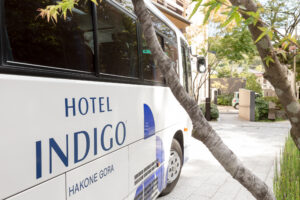 Facility:
Riverside Kitchen & Bar, on the first floor of the hotel
Change:
Breakfast service: 7:00 – 11:00 (last call for orders at 10:30)
Lunch service: 11:30 – 14:30 (last call for orders at 14:00)
Tea time: 11:30 – 17:30 (last call for orders at 17:00)
Dinner: 17:30 – 22:00 (last call for orders at 21:30)
Bar & Lounge
Beverage service:
Monday – Thursday: 10:30 – 22:00 (last call for orders at 21:30)
Friday – Sunday & holidays: 10:30 – 23:00 (last call for orders at 22:30)
Food service:
Monday – Thursday: 11:30 – 22:00 (last call for orders at 21:30)
Friday – Sunday & holidays: 11:30 – 23:00 (last call for orders at 22:30)
Facility:
Foot Bath & Cafe, in the courtyard on the first floor of the hotel
Change:
Monday – Thursday: 7:00 – 21:30 (Cafe hours: 11:30 – last call for orders at 21:00)
Friday – Sunday & holidays: 7:00 – 22:30 (Cafe hours: 11:30 – last call for orders at 22:00)
Facility:
In-room dining
Change
Breakfast service: 7:30 – 10:30
All-day service: 11:30 – 21:30
Midnight service: 21:30 – 7:00